SeaScape Manor is Hospitality.
If you're looking for a special idea for a honeymoon location, to celebrate a special wedding anniversary, or just want a weekend romantic getaway in New Jersey, SeaScape Manor is a wonderful vacation destination. Located in Monmouth County, NJ, our inn offers four spacious antique-filled guestrooms with private baths. For your comfort and enjoyment, each room has a king or queen-sized bed, a ceiling fan and air conditioner, fireplace and Cable TV on a 32" Flat Screen (several hundred channels). All of the Manor bathrooms are spacious with tubs and showers. One bathroom has a large oversized soaking tub for two with a view of the ocean. The other rooms have ample tubs and strong warm showers.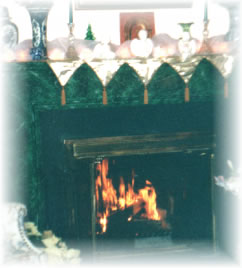 To indulge your senses, two of the rooms have private decks overlooking the ocean, one has a private patio. A wood burning fireplace keeps the Parlor warm in winter and electric fireplaces warm the Breakfast Room and each guestroom. We can help you schedule a massage at Sebastian's Day Spa, just a couple of miles from us on Route 36 and/or a facial service. They are friendly and accommodating with excellent services. Plus we can also help you make reservations for a facial or massage service at a local Spa.
Enjoy complimentary beverages including coffee, tea, soda, and bottled water throughout your stay. A full gourmet breakfast is served each morning on the main deck overlooking the ocean. Upon request, your breakfast can be delivered to your room. A refrigerator, microwave, ice and small pantry are located in the Breakfast Room. Large picnic tables located on the lawn or private tables on the Main deck are at your disposal.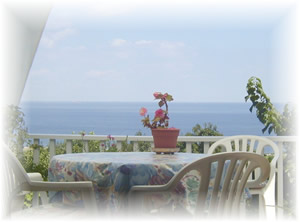 SeaScape Staff will help you make reservations for dinner or the Dessert Theater, or another destination, give you directions and keep you informed of local events.SeaScape has free WIFI when you need to check your e-mail or use your laptop. SeaScape can help if you need to send or receive a fax, make a phone call (if your cell is not getting good reception), and if you need to call a taxi. SeaScape has plenty of on site parking at no additional cost.
If you want to bring the family pet or the family for that matter, request a Pet Reservation or a Family Reservation. Well-behaved pets and children are welcome to stay at SeaScape Manor.

Request our complimentary pickup from the ferry or a ride to the beach. Use our complimentary Beach Pass to visit Sandy Hook in your own car. Get directions and maps from the Manor Staff. Whatever they may be, we will do our best to honor your requests.