Manor House History
The house now known as SeaScape Manor, a beautiful New Jersey beach vacation destination, has majestically overlooked the Atlantic Ocean since 1889. The land owned by the area founding family, the Hartshorne's, since the 1600s, was a perfect spot to build a large farm and country home in Monmouth County, NJ. Hartshorne descendants Benjamin Trask and his wife Elinore along with their daughter Elinore lived in the farm house from 1889 where they often entertained silent film movie stars and had parties with their own private supply of libations during Prohibition. Caretaker's quarters were occupied by the VanKirk's. After Elinore's passing in the 40s, Ben practiced law in New York City and also had a home in Connecticut. He spent little time at this home leaving it primarily in the hands of the caretaker. After Ben Trask's death and upon the death of the caretaker in 1979, the estate was sold to Michael MacCloud a local interior painter and his wife and daughter. The MacClouds updated the house, carved out the lawn and landscaped the property. After 113 years as a private residence, the house was purchased by the current owners in 1992, and SeaScape Manor Bed & Breakfast was born. Over the years since, guests have enjoyed the relaxing New Jersey beach vacations and weekend getaways that Seascape Manor is perfect for.

The Innkeepers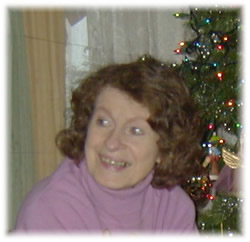 The current owners of SeaScape Manor are Gloria Miller and Robert Adamec. Bob's wife and Gloria's sister – Sherry Ruby went to her Heavenly Home on September 27, 2012. There is a Memoriam to Sherry under the Newsletter Button.
Gloria and Bob are both retired from their professional jobs and work full time as Innkeepers and Bed and Breakfast operators. They are sharing the responsibilities of operating the Bed and Breakfast – which means they do what is needed to be done.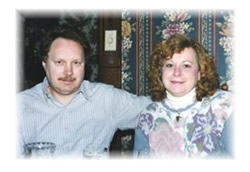 Gloria is the Manor Chef and handles the Housekeeping. She still makes the legendary muffins and breakfast entrees. Bob handles guest relations and the grounds work that is needed. He assists the guests in finding local information, getting onto WIFI and answering questions about the history of SeaScape Manor, etc.

The Assistant Innkeepers
The other Manor residents include 4 cats: Samantha (Sammie), Midnite, Baby Boots and Butterscotch and one dog: Freckles – a freckle nose pure bred English Cocker Spaniel.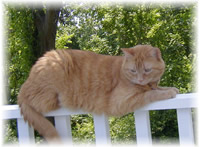 Samantha , our black and white tuxedo cat, came to us from the SPCA in 2005 and was hand picked by Bob. She is a very spirited cat who gallops across the deck and sneaks up onto the table (where she is not allowed). She is friendly sometimes and likes to play, but she can get a little rough. We call Sammie our psycho-cat because of her mood swings.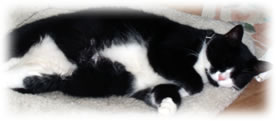 Midnite is all black, as his name implies. He is a very loving little guy – "not the big bad scary Halloween type". He loves his pets and to snuggle by you when you are sitting. He is friends with Freckles and will snuggle with him too. Baby Boots is also a black and white tuxedo cat and is a very loving cat. He likes to climb and sometimes gets stuck and we have to get him down. He takes ownership of the house and you may see him walking through with his tail held high. Baby Boots will go on walks to the park and back with us and Freckles.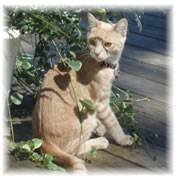 Butterscotch is a yellow tabby, as his name implies. He is a bigger cat with a very large tail. He is rather shy and usually will hide when there are folks around. He was the only "yellow tabby" in a litter of tuxedo black and white kittens. He seemed very strange in the group when we first saw him – but he comes around for his daily pets and will wait until you give him his pets – nudging out the other cats if he's not noticed.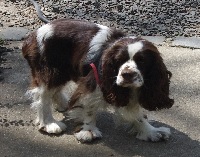 Freckles is very playful and loves everybody. All of the house cats are his friends. They sit with him, sleep with him and go where he goes. He thinks he is a "cat dog" and not a "bird dog" as Cocker Spaniels are supposed to be. He greets our guests with a "loud bark" – also to let us know someone is here. He barks and then kind of waits to know that someone is going to go an answer the door. He is somewhat shy when you first meet him – but warms up to folks very quickly. He knows the tour for the guests and is waiting ready to make sure we follow through with what we are supposed to do. He likes other dogs and gets along with them when they come to stay. He has a friend "Sydney" who stayed with us for 6 months. He is very happy when she comes for her weekly play date.
Other residents that may greet you upon your arrival are many outdoor cats, raccoons, possums, groundhogs, bats, hummingbirds, a herd of deer, an occasional fox, skunk, or turtle. You will see our gold fish and koi in the lily pond as well.
Our family is very pleased to welcome you to SeaScape Manor Bed & Breakfast and hope you will have a wonderful time getting to know us all.