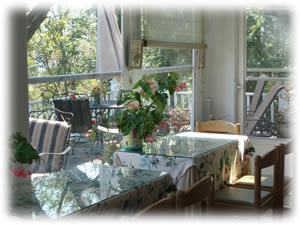 Breakfast at the SeaScape Manor Bed and Breakfast Inn in Highlands, NJ is an occasion. The inn's gourmet fare includes homemade muffins served with fresh fruit du jour, freshly ground coffee and sparkling fruit juice. Favorite entrées like Peaches and Cream French Toast, Cheese Herb Soufflé and Raspberry Banana Crepes or a Fluffy Omelet are served next.
Whether you have breakfast served in the Breakfast Room or on the Main Deck overlooking the New Jersey shore, the ocean view and grand cuisine are always spectacular. We would like to share some of our favorite comfort food with you. If you have a request for a particular recipe, contact the Innkeepers and we will put it on the website as soon as we can.

Crème Brule Fruit Sauce
Peaches & Cream French Toast
Whipped Cream Sauce and Coffee
Fresh Cheese Herb Soufflé
Peach Cinnamon Muffins
Banana-Apricot Walnut Bread
Pear Almond Muffins
Blueberry and Peach Stuffed French Toast with Blueberry/Peach Sauce
Blueberry Coffeecake Scones
Apple Dumplings

A custard like cream sauce which is served over fresh fruit for a light and delectable breakfast fruit cup. Our guests love it and sometimes eat the Brule like a pudding after they have devoured their fruit slices.
Ingredients:
2 Cups Half and Half
3 Egg Yolks
1/2 Cup Sugar
2 Tsp. Vanilla
2 Tbls. B&B or Amaretto
2 Tbls. Cornstarch
In a 3 quart sauce pan, bring the Half and Half to a simmer while stirring frequently. Turn off the heat.
In a medium mixing bowl, gradually stir 1/2 Cup of the hot Half and Half into the Egg Yolks. Add Sugar. Beat this mixture at high speed with an electric mixer for 2 - 3 minutes (until thick and lemon colored).
Put remaining Half and Half on medium heat, pour the whipped mixture into the hot milk, add the cornstarch. Keep stirring until the mixture thickens and then add Vanilla and B&B. Do not over heat as the mixture will become lumpy.
Serve warm or cold. Serve as a topping on a bowl of sliced fruit. Serve as a topping on Coffee Cake.
This is a wonderful French Toast that receives raves each time it is served. The taste is unbeatable and unbelievably delicious.
Use heavy textured bread for best results.
Ingredients:
2 15 oz. Cans Sliced Peaches - Drain liquid and puree in blender. Note: Use 6 - 8 fresh peaches in season. Peel and slice and then puree in blender.
1 Tsp. Cinnamon
1 Tsp. Nutmeg
8 Eggs
3 Tbls. B&B (or up to 1/2 Cup, depending upon preference) - optional
1 Cup Half and Half
Blend all ingredients in a blender.
Use a large cookie sheet. Place the blended sauce on the bottom of the cookie sheet. Coat the bread slices on both sides with the mixture. Place the bread slices on the cookie sheet and cover the entire cookie sheet with plastic wrap.
Refrigerate several hours or overnight.
Heat your pancake grill to 350 degrees. Rub the surface lightly with oil. Cook the French Toast on each side for 5 to 6 minutes. Alternate sides of the toast every two minutes to keep it from browning too much.
Makes 8 to 10 delicious servings.
Serve with warm Maple Syrup and garnish with fresh peach slices.
Whipped Cream Sauce and Coffee
This light and fluffy whipped cream with its fabulous rich flavor is such a special treat on coffee. Our guests put this sauce on their coffee, on their fruit and even on their coffee cake. They love this sauce!!
Ingredients:
1 Cup Heavy Cream
1 Cup Milk
2 Packages Dream Whip Topping
2 Tsp. Vanilla
2 Tbls. B&B or Amaretto - optional
Use a mixer. Whip all ingredients together until it has the consistency of Whipped Cream.
Chill the mixture in the refrigerator.
Serve on top of fresh brewed hot coffee with Nutmeg sprinkled on top.
Serve as topping on fresh sliced fruit.
Serve as a topping on Coffee Cake.
back to top
We serve this light and flavorful dish on especially hot days in the summer. Our guests love the fresh herb taste and the fluffy texture.
Ingredients:
2 Cups Milk
6 Tbls. Butter
6 Tbls. All-Purpose Flour
8 Eggs, separated
1 Cup grated Monterey Jack Cheese
1 Cup grated Cheddar Cheese
1 Tsp. Grey Poupon Mustard
1/2 Tsp. Nutmeg
1 Tsp. Salt
Fresh Herbs: 2 Tbls. each cut into tiny bits of Basil, Rosemary, Thyme, Parsley.
Pepper to taste.
In a 2 quart saucepan, heat milk on medium heat.
In a separate saucepan, melt butter and stir in flour. Stir and cook for 2 minutes.
Add warm milk and stir constantly over low heat until the mixture is smooth and thick. (About 3 to 5 minutes.)
In a separate bowl, beat egg yolks with a fork or whisk. Stir a small amount of the warm milk sauce into the egg yolks. Stir well. Then add the remaining milk sauce.
Beat egg whites to soft peaks. Fold half of the beaten egg whites into the milk sauce. Then gently fold in the remaining egg whites.
Place the mixture in a well greased soufflé dish. If desired, place a rim of parchment or aluminum foil as a collar around the top of the soufflé dish, this must be greased also.
Bake at 350 degrees or 45 minutes. Serve immediately. Makes 4 to 6 servings.
These peachy muffins are always a hit with the guests. They are moist and have a fresh peach flavor, with just enough spice to make them unforgettable.
Ingredients:
2 Cups All-Purpose Flour
1/4 Cup Packed Light Brown Sugar
1/4 Cup Granulated Sugar
3 Tsp. Baking Powder
1/2 Tsp Salt
1/2 Tsp. Nutmeg
1 Tsp. Cinnamon
1 Cup Milk
1 large Egg
1/2 Cup Butter (or Margarine) melted
3/4 Tsp. Almond Extract
1 Cup peeled, coarsely chopped peaches (Fresh or canned)
Preheat oven to 375 degrees.
Sift flour, brown sugar, granulated sugar, baking powder, salt, nutmeg and cinnamon into a large mixing bowl. Whisk to combine dry ingredients thoroughly.
In a separate bowl, whisk milk, egg and melted butter together. Add almond extract and mix.
Make a center hole in the dry ingredients. Pour in egg mixture and blend until the batter is smooth. Stir in peaches.
Grease muffin tins well. Fill them fairly full. Bake at 375 degrees for 20 minutes. A tooth pick should come out clean when placed in the center of the muffin.
Makes 12 muffins.
Just the right combination to tantalize the tastebuds. Our guests love to have this bread at breakfast and often want loaves to go. A great holiday gift.
Ingredients:
1 3/4 Cups All-Purpose Flour
2 Tsp. Baking Powder
1/2 Tsp. Salt
1 Tsp. Baking Soda
1/2 Cup Butter, softened
1/2 Cup granulated Sugar
2 large Eggs
1 Tsp. Vanilla extract
1/2 Cup Milk
2 to 3 ripe Bananas, mashed
1/2 Cup chopped dried Apricots
1/2 Cup coarsely chopped Walnuts
Preheat oven to 350 degrees. Grease and flour three 2x5 inch loaf pans or one 9x5 inch loaf pan.
Whisk flour, baking powder, salt and baking soda together.
Mix butter and sugar together using medium speed on mixer until light and fluffy. Beat in the egg, milk and vanilla.
Using the low speed of mixer, alternately beat flour mixture and mashed bananas into the butter mixture. Stir in the apricots and chopped walnuts.
Spoon batter into prepared pans. Bake small pans about 40 minutes; bake large pan about 50 minutes. Bake until the top is golden brown and a tooth pick comes out clean. You can place foil on the top for the last 15 minutes if the breads are becoming too brown.
1 3/4 cups all purpose flour
1/3 cup sugar
2 1/2 teaspoons baking powder
1/4 teaspoon salt
1 beaten egg
3/4 cup milk
1/2 cup vegetable oil
1 teaspoon Almond Extract
1 to 1 1/2 cup finely chopped -peeled pear (fresh or canned)
3/4 cup chopped almonds - toasted*
Grease 12 muffin cups. Bake 375 degrees - 20 - 22 minutes
Mix together flour, sugar, baking powder, and salt in a mixing bowl.
Make a well in the center of the dry mixture.
In another bowl - combine egg, milk, almond extract and oil. Add egg mixture all at once to the dry mixture.
Stir just until completely mixed - may be a little lumpy. Stir in the pears
and 1/2 cup almonds.
Fill muffin tins - 2/3 to 3/4 full. Sprinkle remaining almonds on top.
Bake - Check for doneness with toothpick or other tester.
Let set for 10 minutes and remove from muffin tins.
*Note: Almonds - I use the sliced almonds. Toast at 375 degrees - for about 6 minutes. Check - they may need a little longer.
These Scones are unbelievably light and delicious. A real treat.
Preheat oven to 375 degrees. Lightly grease 11 inch circle of baking sheet.
SCONES
2 1/4 cups all-purpose flour
1/2 cup granulated sugar
2 1/2 teaspoons baking powder
1/2 teaspoon of salt
1/2 cup butter
2 large eggs
1/2 cup milk
1 teaspoon of vanilla extract
1/4 teaspoon grated lemon peel
1 tablespoon lemon juice
CRUMB TOPPING
3/4 cup all-purpose flour
1/4 cup firmly packed light brown sugar
1/4 Cup Butter
1/2 teaspoon cinnamon
1/2 teaspoon nutmeg
1/2 cup chopped walnuts - optional
In a large bowl, stir or whisk together the flour, sugar, baking powder and salt. Soften the butter (in microwave 30-45 seconds) and mix into flour mixture.
With a pastry blender or large fork - cut in the butter until mixture resembles coarse crumbs.
In a small bowl, stir together the eggs, milk, vanilla, lemon peel and lemon juice.
Add the egg mixture to the flour mixture and stir to combine. The dough will be sticky. With lightly floured hands, gently knead in the blueberries until evenly distributed.
With lightly floured hands, pat the dough into a 9-inch circle in the center of the prepared baking sheet.
Prepare Crumb Topping:
In a small bowl stir together the flour, brown sugar, cinnamon and nutmeg. Using a large fork, cut in the butter until the mixture resembles coarse crumbs. Stir in the chopped walnuts.
Press the crumb topping lightly into the dough.
Bake 30 to 35 minutes or until a cake tester or toothpick inserted in the center comes out clean.
Place baking sheet on wire rack and cool for 15 minutes. Cut into wedge shaped pieces.
Serve warm or cooled. Store in refrigerator.
Blueberry and Peach Stuffed French Toast with Blueberry/Peach Sauce
Preheat oven to 350 degrees - grease a 13x9 baking dish
10 - 15 slices white bread (day old) - crusts discarded, cut or broken into small pieces
8 ozs of cream cheese - cut in small cubes or drop from spoon
1 to 2 cups of blueberries (fresh or frozen), rinsed and drained
1 cup of sliced peaches (fresh or canned)
12 large eggs, whisked
1/2 cup maple syrup
1 1/4 cup milk
1 1/2 tsp vanilla
1 tsp Cinnamon plus cinnamon to sprinkle over top of prepared dish
1 tsp Nutmeg
Arrange half of the bread crumbs in the 13x9 baking dish
Place a layer of peaches over the bread crumbs
Scatter the cream cheese in cubes or small balls over the bread and peaches
Scatter 1/2 of the blueberries over the bread and peaches
Arrange the remaining bread cubes over the fruit layer
Scatter the remaining blueberries over the bread cubes. (you can add more cream cheese, if desired).
Whisk together eggs, syrup, milk, cinnamon, nutmeg and vanilla and pour over bread mixture
Pour over bread and push bread down into liquid ingredients.
Page 2 - Blueberry and Peach Stuffed French Toast -continued
Cover the dish with foil. Chill overnight (or a number of hours).
Bake covered with the foil - 30 minutes at 350 degrees.
Uncover and bake 20 to 30 minutes longer - until puffed and browned.
Let set for about 10 - 12 minutes. Cut into square serving pieces.
Spoon Blueberry/Peach sauce over the top of the serving.
Sprinkle with powdered sugar and serve.
Blueberry/Peach Sauce
2 cups of blueberries
1 cup of pureed peaches
1/2 cup sugar (1/3 cup for lighter sauce)
1 tablespoon butter - (optional)
Mix the sugar and pureed peaches in a sauce pan.
Cook over medium heat, stirring constantly - (about 5 minutes)
Stir in butter.
Stir in blueberries and continue to stir. Lower heat and simmer for 15 minutes.
Apples
Cinnamon
Walnuts
Raisins
Pare and core apples - Granny Smith or other tart apple work the best.
Cut apples into fourths. Set apple piece on the cut pie dough. Add 1 lg. teaspoon of Brown Sugar, raisins, walnuts (to taste) to the apple on the dough. Roll the dough up around the apple piece. Place in the baking dish.
Sprinkle the apple dumplings wrapped in the dough with cinnamon. Note: you can also add cinnamon to the inside mixture if you want. About 2 tsp of cinnamon total.
Syrup to cover the Apple Dumplings:
Use 1 Cup of Brown Sugar to two cups of water. This cooks down when baking - so it doesn't have to be a heavy syrup (adjust to your taste).
Fill baking dish up to about 3/4 of the apple dumplings - the syrup will cook down as it bakes.
Bake at 350 degrees - 40 to 45 minutes
After the first 20 minutes - spoon the syrup (from in the baking dish) over each of the apple dumplings. Bake 12 minutes more and spoon the syrup (from in the baking dish) over the apple dumplings. Bake 8 minutes more.
PIE DOUGH
2 Cups All Purpose Flour
1 tsp salt
3/4 cup crisco shortening
9-10 Tablespoons of COLD water
Blend flour, salt, Crisco together - with a pastry blender or a large fork - until the mixture is small crumbs like the size of peas (do not overmix)
Add each TBL of COLD water - one at a time and mix into the flour mixture. When 9 Tablespoons have been added - mix with your hands and add the 10th tablespoon of water. If the dough isn't moist enough to shape into a dough ball (without feeling dry) add more water - one tablespoon at a time until the dough is moist enough.
Roll out dough on a floured surface - or roll between two sheets of wax paper.
When rolled out flat - cut to fit the piece of apple - so that it will wrap completely around the apple.
Depending on the size of the 1/4 apple, you can get from 4 to 6 pieces of dough out of 1/4 of the ball of dough.