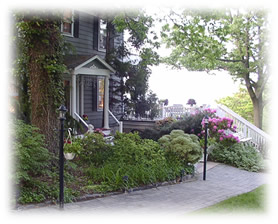 SeaScape Manor wishes to make your New Jersey family vacation or romantic getaway as enjoyable as possible. As a pet friendly bed and breakfast located in Monmouth County, NJ, our B&B is a delightful alternative to conventional hotel lodging. There are a few rules and policies needed to ensure that your beach vacation at SeaScape Manor goes smoothly.
Rates
SeaScape Manor Room Rates range between $145 to $260 per night, double occupancy. Each additional person is $25 per night. If you would like to invite additional guests to share breakfast with you, please inform the Innkeeper in advance and a charge of $15 per person will be charged. There is a $10 charge for booking only Saturday night in season and holiday rates are slightly higher than non-holiday weekends.

Check-In
Check-in time is between 3 pm and 9 pm. Note: We will do our best to have rooms ready by 2 pm - however, when there are several check-outs and check-ins - it is not always possible.
Reservations
Reservations should be made as far in advance as possible, especially if you request a specific room. We will do our best to honor your room request, however we do reserve the right to change the room to one of better or equal value, if an unavoidable situation should occur.

Deposit
When you make your reservation, a credit card will hold your request. A reservation cannot be confirmed without a full credit card number provided or an amount of a deposit payment by cash or check determined at the time of the reservation. A deposit is not taken for most stays at SeaScape Manor. Payment is taken at the time of your stay. Deposits will be taken for stays in July and August - when made in the previous year or early in the year of the stay. For a 3 or 4 night stay, deposits will be taken. Usually this will be about a 30% deposit. Deposits can be in the form of a credit card (Amex, Master Card, Visa or Discover) - or by cash or check. When the deposit is received, a confirmation of same will be sent via e-mail or postal mail.
Cancellation
Although we understand that situations do occur requiring cancellations, a last minute change can be devastating for us because we have so few rooms. Please notify SeaScape as soon as you can of a possible change in plans so we can have time to re-book your room. If we are notified at least 7 days in advance of the scheduled arrival, no charge is required. If we are notified of a cancellation in less than 7 days in advance of the scheduled arrival, we will charge for the first night and any consecutive nights of the reservation, if we are unable to rent the room for the cancelled nights. If the room is rented for the duration of the reservation, only a $25 processing fee is charged.
Children
SeaScape Manor provides a wonderful lodging option for your New Jersey family vacation. Well-behaved kids are welcome. Please ask the Innkeeper for approval - all rooms are not suitable for more than 2 individuals. Your reservation must be clear about the number of guests that will be staying in the room. There is no charge for children up to 16 years of age. SeaScape will not honor your reservation if the total number of guests staying is not disclosed and there is not a room that can accommodate the total number for the reservation.

Pets
Do you love to travel but have a hard time leaving your best friend behind? Bring your furry pal along! SeaScape Manor is a pet friendly place, and well-behaved pets are welcome. There is a $25 pet fee. Please ask the Innkeeper for approval to bring a pet. Pet Rules include no more than 2 dogs or cats. Dogs may not be larger than 60 pounds. Cats must be in carriers. All vaccinations must be up to date. Pets may not be on the beds or chairs without a protective cover. A pet may not be left in the room - if he or she barks incessantly when left alone and a cat must remain in the carrier. Check with the Innkeeper for assistance in Pet Sitting while you are out - so that all guests remain comfortable with their stay. Agreement to follow these rules is required (as is...) Agreement to follow these rules is required so that other guests are comfortable, you and your pet are comfortable and to maintain cleanliness standards. More Pet Friendly Facilities.
Smoking
Smoking is allowed on the outside decks and in the lawn area only. If smoking occurs in the rooms, you will be charged a cleaning fee for the extra cleaning required. You may be ask to leave SeaScape Manor, if you smoke in the room and other guests say they are uncomfortable or ill because of the smoking.
Destruction of Property
We understand that accidents do happen - quick notification of the Innkeeper can often help avoid permanent damage. Any items stained, destroyed or broken must be reported to the Innkeeper as soon as possible. If the item can be cleaned, repaired or replaced easily, the Innkeeper will do so. If an item is destroyed beyond repair, replacement cost of the item will be charged to the guest.