Manor House History
The house now known as SeaScape Manor, a beautiful New Jersey beach vacation destination, has majestically overlooked the Atlantic Ocean since 1889. The land owned by the area founding family, the Hartshorne's, since the 1600s, was a perfect spot to build a large farm and country home in Monmouth County, NJ. Hartshorne descendants Benjamin Trask and his wife Elinore along with their daughter Elinore lived in the farm house from 1889 where they often entertained silent film movie stars and had parties with their own private supply of libations during Prohibition. Caretaker's quarters were occupied by the VanKirk's. After Elinore's passing in the 40s, Ben practiced law in New York City and also had a home in Connecticut. He spent little time at this home leaving it primarily in the hands of the caretaker. After Ben Trask's death and upon the death of the caretaker in 1979, the estate was sold to Michael MacCloud a local interior painter and his wife and daughter. The MacClouds updated the house, carved out the lawn and landscaped the property. After 113 years as a private residence, the house was purchased by the current owners in 1992, and SeaScape Manor Bed & Breakfast was born. Over the years since, guests have enjoyed the relaxing New Jersey beach vacations and weekend getaways that Seascape Manor is perfect for.

The Innkeepers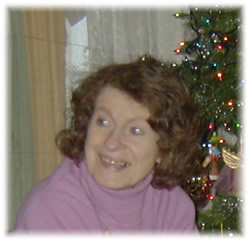 The current owners of SeaScape Manor are Sherry Ruby, her husband Robert Adamec and sister, Gloria Miller. The three partners pool their expertise to offer beautiful surroundings and hospitality to the many guests that pass through their door.
Gloria Miller, a retired Project Manager and Technical Writer at Telcoria Telecommunications Company, is the chef of the Manor. She is in charge of Housekeeping and makes all those wonderful breakfasts. Her muffins are legendary.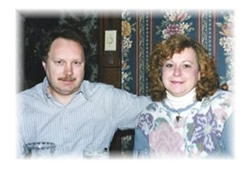 Sherry Ruby, the sister of Gloria, is a Technical Writing Consultant, as well as in charge of reservations and marketing for the B&B. She has also been in charge of decorating with the advice and consent of her sister Gloria.
Robert Adamec, a New York City native, works for Citibank in Jersey City where he is a System Administrator and AVP. Bob helps out by checking in guests, answering the phones and helping take care of the grounds.
The Assistant Innkeepers
The other Manor residents include 3 cats: Samantha (Sammie), Britany and Gatsby and the leader of the pack, Oscar Mayer the longhaired Dachshund. Plus we have a new addition, Freckles the Cocker Spaniel.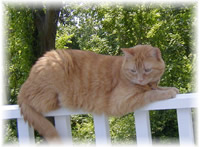 Gatsby , our orange tabby, was adopted in 1989 when he was six weeks old from a farm in Pennsylvania, he spent the first three years of his life in a New York City apartment and summer weekends at a bungalow at the shore. He has adapted well to the country, but is still a recluse and you won't see him socializing often. If you do see him, approach him with caution, he is very fragile. Gatsby is 21 years old.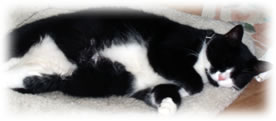 Samantha , our black and white tuxedo cat, came to us from the SPCA in 2005 and was hand picked by Bob. She is a very spirited cat who gallops across the deck and sneaks up onto the table (where she is not allowed). She is friendly sometimes and likes to play, but she can get a little rough. We call Sammie our psycho-cat because of her mood swings. She is approximately 9 years old.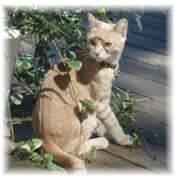 Britany our champagne colored cat, arrived in February 2009 as a full grown rescue cat. She is very shy and spends most of her time in the Laundry Room. She is getting a little braver and comes up stairs to cuddle occassionally. She is intimdated by the other animals. She is about 6 years old. Folks staying in the Garden Room may see her when she wanders out for some sun or to visit. She loves to be petted and is friendly to people.
Note: For those of you who remember him, Frankie Six Toes died unexpectedly on January 31, 2009 of a stroke. He is sadly missed by all who knew and loved him.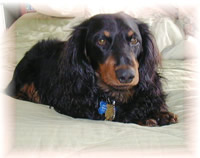 And now for Oscar Mayer: Oscar was adopted in September of 1999 when he was 3 months old. He is a purebred longhaired Dachshund and having been at the B&B since a wee pup he has adapted quite nicely. He will greet you in the yard or at the door with a bark – he just wants to say hi and be petted (and warn his humans that someone is there). He leads the tour of new guests through the house, making sure all stops are covered and he waits at the bottom of the steps when you check out so he can get his belly rubbed. His only bad habit is running out of the gate to have an adventure. If you see him heading in that direction, please lure him back or alert the innkeeper. Oscar is now 11 years old.
The newest member of our family is Freckles. He is a beautiful pure bred Cocker Spainel full of fun and life. He came to us as a 3 month old and will soon be one in April.
Freckles is a very lively puppy who has a special kitty friend. He is playful and loves to tear up paper, pens and anything else he finds. He is scheduled for obedience school soon. He is a very happy-go-lucky sort and likes people almost as much as he likes his kitty friends. He can't wait to meet our guests and to learn to play fetch and other games.

Other residents that may greet you upon your arrival are many outdoor cats, raccoons, possums, groundhogs, bats, hummingbirds, a herd of deer, an occasional fox, skunk, or turtle. You will see our gold fish and koi in the lily pond as well.
Our family is very pleased to welcome you to SeaScape Manor Bed & Breakfast and hope you will have a wonderful time getting to know us all.