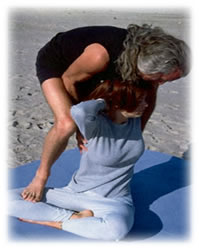 The SeaScape Manor, in Highlands, NJ, offers Thai Bodywork Massage in the privacy of your room.
Enjoy a seated massage or full body treatment in the privacy of your room at SeaScape on the New Jersey Shore. Relax and feel the soothing relief as the tension starts to leave your body. Thai Bodywork Massage has the ability to leave you feeling relaxed and rejuvenated. Thai Massage reduces muscle tension and the pain it causes. It calms the nervous system and increases circulation and boosts energy and alertness. Experience your massage in your room or on your private deck.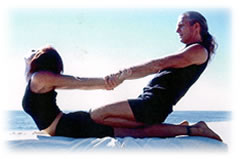 Thai Bodywork is a one-on-one treatment that releases blocked areas and stimulates the flow of healing energies within the mind, body and spirit. From chronic pain to emotional stress to bodywork in general Thai helps balance and restore a state of harmony that leads to health, happiness, and wellness of being. This healing therapy will leave you refreshed, rested and alive.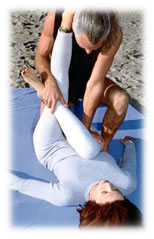 Thai massage is, in fact, one of the ancient healing arts of traditional Thai medicine. It is a full-body massage, performed on a floor mat with both parties in loose comfortable clothing. It incorporates t'ai chi moves, rhythmic motion, palming, and thumbing along energy lines (sen lines), gentle stretching and the conscious use of breath. The practitioner uses her hands, feet, arms and legs to guide the recipient into various yoga postures, while remaining focused on her own body-center. This combination of movements and focused awareness creates a slow, flowing dance around the recipient's body. Thai massage is well respected and proven healing art that's quickly gaining popularity in the West because of its meditative approach and its application of yoga's well established benefits.
A Thai Bodywork Massage session lasts typically between one or two full hours. Receivers lay on a large futon designed specifically for Thai massage that is placed on the floor. One should wear loose, comfortable clothing and as the body work progresses you may want less clothing, thus layers are recommended. Your feet will be bare. Then just lay back and relax as you are massaged, and you experience balancing of energies of the body, mind and spirit.

You can choose from the following services:
Seated Massage: a brief massage performed while you are in a massage chair, fully clothed, lasting 20 to 30 minutes. No oils are used, bodywork includes your head, neck, shoulders, back, arms and hands. Plus the massage can be adapted your individual needs.
Cost: $35 for 20 minutes, $45 for 30 minutes.
Thai Bodywork Massage: A full body workout in the comfort of your room or on your private deck.
1/2 hour = $50
1 hour = $100